Gunnar Engblom is an avid birder, biologist, owner/manager, and guide of Kolibri Expeditions (based in Lima, Peru) has provided both aficionados and tourists with amazing birding trips all over Peru and has done so since 1998. Engblom's website is a testament to his dedication and appreciation for birds and nature. One article in particular was the culprit that originally led me to discover his website a few months back.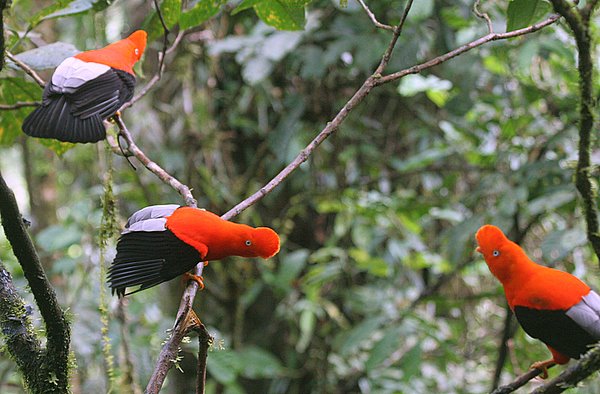 On Engblom's website you'll find an article entitled "11 must-see birds in Peru for everyone!" The wonderful article includes 11 amazing and exotic birds which are native to Peru or migrate frequently from other parts of the South American continent. Engblom presents the 11 must-see birds as important tourist attractions that every traveler should see on their vacation (holiday to you Brits). By far a must-see exotic bird would have to be the cock-of-the-rock or Gallito de la Roca, which is the national bird of Peru (I always thought it was the condor?). Below is a excerpt from Engblom's article about the "11 must-see birds in Peru for everyone!"


"Wow! Exclamation mark is necessary! This surreal member of the Cotinga family has a wide distribution from Venezuela to Bolivia. It is one of the most colorful birds of the Andes. The males gather in "lek" - displays - where the perform ritual dances and make noisy grunts and shrieks. In many places leks have become tourism attractions. The most famous is perhaps next to Cock-of-the-Rock Lodge, but there are several places in Central and Northern Peru where leks also can be seen. Locally, it has become good incentives to conserve forest. Since the cock-of-the-rock is also un-officially national bird of Peru kids all over the country learn to appreciate it. Only five years ago, when traveling in Central Peru inquiring where I could see it, I was directed to the zoo or a man that allegedly had stuffed ones for sale! Things have changed now."
For those interested here is the link to the article:
LINK